Daily Archives:
September 9, 2023
New Pre-Lit Artificial Fir Christmas Wreath w/ LED Lights, Plug-In, PVC Tips. 48-Inch Wreath: 48″(Dia) x 10″(H). 48-Inch Weight:15.7 lbs. 60-Inch Wreath: 60″(Dia) x 10″(H). 60-Inch Wreath: 20.3 lbs. 48-Inch Tip Count: 714. 48-Inch Lights: 200 LED. 60-Inch Tip Count: 930. 60-Inch Lights: 300 LED. Light Model Number: HWOA-200/4FR(0.4A). Includes: Christmas Wreath, Power Adapter. Assembly required (with instructions). VERSATILE DECORATION: Made with a classic, blank design that's perfect for your personal touch of holiday cheer with ribbons, ornaments, and more! EXTRA LARGE ACCENT: Hundreds of easy-to-fluff PVC branches create a beautiful centerpiece with a large, eye-catching profile; Tip Count (48in/60in):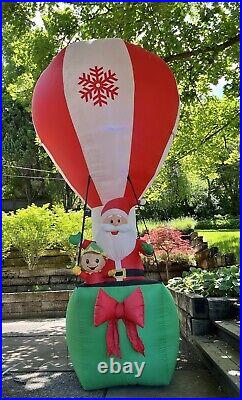 In used condition with appropriate wear from age, use and storage. Does not come with stakes or original box. Tested and photographed in the daylight. Can not guarantee all bulbs are working. 2 holes as seen in photos. (Inflates and stays inflated even with holes). Blower works great but has significant crack along its base.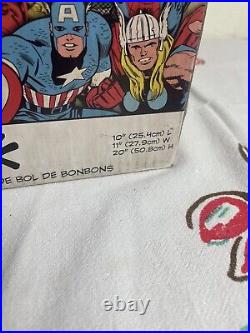 This Rubies Marvel Comics Hulk Candy Bowl Holder is perfect for any Marvel fan. It's made of durable materials and is sure to impress your guests. The candy bowl holder comes with a bowl that is 20\"x11\"x10\ in size, making it perfect for Halloween or any other occasion. The Hulk figurine is a great addition to any collection and is sure to be a conversation starter. The candy bowl holder is a unique and fun way to serve candy or other small treats. The holder can be used year after year and is sure to be a hit with kids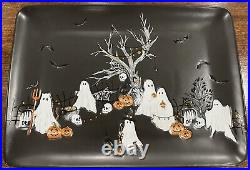 Brand new Pottery Barn platter for Halloween as part of the Scary Squad collection. Crafted from stoneware with decal artwork and a Matte glazed finish. 16″ w x 12.25″ d x 1.25 t. Dishwasher and microwave safe. While dishes are microwave safe, they may become hot. Pottery Barn. Potterybarn.
Decorate your Christmas Tree, Wreath, Garland, and holiday arrangements with Gold Ball Ornaments! Matte Gold Ball Ornaments in varying sizes. 50 Millimeters to 16 inches! Choose the size that fits your decor. Color – Matte Gold. Professional Quality & Shatterproof Plastic – Ornaments made for commercial applications and decades-long use. They'll look great for the holidays and will be able to be used again and again. Silver Cap Included and attached. Green Pick Wire comes with ornaments smaller than 5in. Easy to wrap around anything you wish to decorate. Ornaments 5in and larger come with a Silver String to hang
This Kingswood Fir Slim Artificial Green Christmas Tree is 7.5 feet tall with a 30 inch base diameter. Featuring hundreds of individually crafted branch tips to create full bodied branches, this tree is designed to look and feel lifelike. Designed to look and feel lifelike, this tree is defined by its close attention to detail, featuring hundreds of individually crafted branch tips that make up the wide, full-bodied branches that create space for your lights and ornaments. This tree features pre-attached, hinged branches that drop down for a simple set-up and fold back in for quick and convenient storage. Set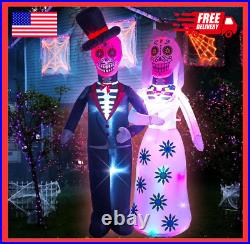 AJY 6 Feet Day of The Dead Couple Halloween Inflatable LED Lights Decor Holiday. Description Product information: Material:high quality polyester fabric Weight : 3.64 Pounds Product Size: 6 Feet Description: Use requires direct power Applicable: Halloween Decoration Party How to use: 1. Plug in the inflatable air mold 2. Fix the air mold with piles or fixed drawstrings Sweet couple combination, perfect shape design, with beautiful lighting effects, let you and your family spend a perfect and memorable unique Halloween. Attracting the attention of guests and neighbor at all times, let them marvel at this fun and scary ornament. Don't
You might not want to know what's cooking when you see this Bubbling Cauldron. It features noises, faux flames and lights to give the ultimate scare. Includes bone fork and spoon accessories to stir up the ingredients of a spooky brew. It measures 5 ft. And is easy to assemble yourself for a quick and easy Halloween display. Plastic design with a realistic wooden finish enhances your display. Cauldron with crossed posts is ideal for decking out your yard for Halloween or any spooky occasion. Bubbling ooze and faux flame are fitted with LEDs for a scary nighttime display. User-friendly
6FT Hinged Fraser Fir Artificial Fir Bent Top Christmas Tree. If you love Santa so much, why not bring the whole look to the tree? Be bold with this Christmas Hat-inspired Artificial Tree. A red and white Christmas Hat in the shape of a Christmas Tree has 1250 bendable branches and 300 LED lights that can house any ornaments and even make your Christmas Hat tree unique. All branches and tips are made of premium PVC, the material of this artificial fir is fire-resistant, allowing you to decorate home safely and durably. While the tree trunk and stand are made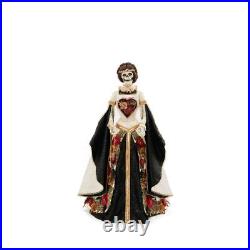 Katherine's Collection 2022 Gloomiet Doll comes in 2 sizes and features a beautifully designed Halloween figurine crafted with amazing detail by skilled artists. This would be the perfect decor on a mantel, shelf, desk, or coffee table. They can be combined with other decorative figurines like witches, scarecrows, zombies, and more. Great accent pieces to complete your home or office Halloween decor.